Sudbury Silk Festival- A celebration of silk weaving in Sudbury, Suffolk.
The First Sudbury Silk Festival was held on Saturday 7th September 2019 with a day-long programme of exhibitions, talks, silk walks, a silk architectural heritage walk and workshops attended by hundreds of enthusiastic visitors.
Gainsborough's House had around 1000 visitors to their exhibition featuring costumes by British designer Vivienne Westwood alongside other hosted activities. If you missed the festival day this exhibition runs until 27th October 2019.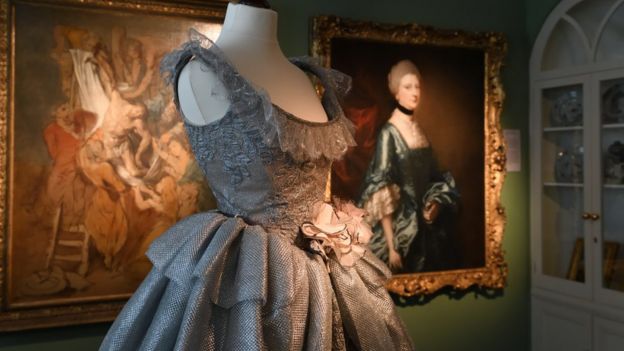 Image AK PURKISS. An item by British designer Vivienne Westwood on display for the festival
Similar numbers attended the main exhibition space at St Peters Church, where Humphries Weaving had a selection of Silks on display, with Bruce and Natalie answering questions throughout the day. Other exhibitors all the Sudbury Silk Mills; David Walters, Stephen Walters, Gainsborough and Vanners, which employ more than 300 people in the town and import more than 110 tonnes of Chinese silk thread to Sudbury each year.
Each of the mills showcased their specialism with rich silk displays and examples of the high end markets in which they operate, the Stephen Walters 'Designer of the day' competition proving a particular hit with the younger visitors.
Humphries Weaving stand at the Sudbury Silk Festival, St Peters
It was great to exhibit opposite May Berkouwer Textile Conservation, where both stands featured the Castletown  House project showing the interesting relationship between conservation and restoration. Other stands included; John Sayers & Barbara Milligan, local textile designer Zoe Daley, West Suffolk Embroiderers, Out of the Fold Textile Group, The Warner Textile Archive, The Huguenots of Spitalfields, Sudbury Library, Colchester Institute Textiles department & Rachel Thackeray, Colchester Stitch and Bitch Group, Lavenham Guild of Weavers, Spinners & Dyers and Gainsborough's House.
Alex from Humphries Weaving also assisted in the installation of a display cabinet at the Heritage Centre, showcasing the history of silk and the mills in the town. Due to popular demand the heritage centre will be running the display for longer.
Silk Display at the Heritage Centre, Sudbury
There were guided walks around the town covering Sudbury's silk heritage and architectural heritage which had sold out well ahead of the event and a series of talks relating to the silk and textile industry, held throughout the day in the town hall and at an evening reception. Richard Humphreis own article 'Sudbury silk tales- how silk came to Sudbury' also flew of the stand with interest and can be read in full here.
Liz Trenow delivering her talk 'Love of Silk' to a packed town hall
As part of the St Peter's echibition a series of films were shown on the big screen, our film 'The quest for His Majesty's silk' was played and can be watched again below;
In the Press
Publicity feature from BBC Look East recorded the day before the Sudbury Silk Festival;
Evaluation film of the Silk Festival produced by the Offshoot Foundation;
Sudbury Silk Festival celebrates the rich history of silk weaving in Sudbury with a day-long programme of exhibitions, talks, silk walks, a silk architectural heritage walk and workshops on Saturday 7 September 2019. www.sudburysilkfestival.org.uk
Humphries Weaving is a leading British manufacturer of custom Jacquard fabrics proudly based in Sudbury, Suffolk. We believe in design excellence and integrity above all else and use our extensive knowledge, unique archive, and technical skill to produce beautiful and interesting fabrics for the world's most prestigious clients. For more information visit; www.humphriesweaving.co.uk